Information about Le Tréport and No. 3 General Hospital
Update 10 September 2011:
We recently heard that the Historial museum at Péronne (http://en.historial.org/) has several copies of the book about Le Tréport by the two French historians - see below. The museum has an online bookshop but the Le Tréport book is not listed so it would be necessary to contact them directly. The book is 23 euros.
We were very sorry to learn in July that Dr Bruno Garraud, co-author of the book with Ridha Arfa, died in May this year. More here: http://www.le-treport-cartes-postales-anciennes-et-photos.com/article-hommage-a-bruno-garraud-76802869.html.
---
16 July 2009: I have heard from Ridha Arfa in Le Tréport that last year's exhibition, which includes extracts from Edie's dairies when she was stationed in the Trianon Hotel (aka General Hospital No. 3), is being held again this year. It will be in the exhibition building on the cliffs near the top of the funicular railway between 10 July and 16 August 2009 each Friday to Sunday between 2pm and 6pm.
General Hospital No. 3 - Hotel Trianon, Le Tréport
In June 1918 Edie received orders to transfer from Abbeville to General Hospital No. 3 which was based at Le Tréport. She arrived there on 21st June and commented: "The hospital is splendid - partly in a huge hotel perched on the top of a high cliff". A couple of weeks later she says: "I sometimes wonder - if I realize that I am living in one of France's smartest Hotels - beautifully situated - good rooms - wide corridors - bath-rooms galore - I always choose one that looks towards the rising Sun - & over the Harbour & Town - it is so quaint & beautiful in the early morning. And all - free of charge!"
This was the Trianon Hotel and we are indebted to Jean-Luc Dron who is writing a book about the English and Canadian hospital during WW1, due for publication in 2009, for sending these images below of postcards in his collection. Jean-Luc was born in Le Tréport and now lives near Paris.
In some accounts, the hotel is referred to as The Grand Hotel. Here's a comment from Jean-Luc: "I agree; the Trianon Hotel was the only one situated at the top of the cliff ! I'm sure that it's the same place."
More about Jean-Luc here: http://www.le-treport-cartes-postales-anciennes-et-photos.com/article-20998569.html and his blog is at http://www.le-treport-cartes-postales-anciennes-et-photos.com/.
In November 2008 I was contacted by Karen Hrabec whose great grandfather, Sgt James Partlin, died in Edie's care at No. 3 Hospital at Le Tréport. Click here for more information.
---
Our visit to Le Tréport.
In March 2009 Dick (great nephew of Edie) and Lisa Robinson visited Le Tréport on the way to Etretat (see separate page on Etretat). We had arranged to stay at Le Manoir de Beaumont near Eu where our host, M. Demarquet, was interested to hear of Edie's diaries and kindly arranged for us to meet local historian, M. Ridha Arfa, on our return journey. M. Arfa, who had been responsible with his colleague, Dr. Bruno Garraud, for organising an exhibition in November 2009 focussing on the role of Le Tréport in WW1, came out to Le Manoir to meet us with a sample of his large collection of old postcards and photographs. The next day we went to his home in Mers-les-Bains and spent a long tome looking through his collection of postcards showing many British and Canadian soldiers and nurses in the hope of seeing Edie; sadly she wasn't to be found.
M. Arfa and Dr. Garraud produced a splendid book of over 100 pages of text and photographs to go with the exhibition and, to our surprise and delight, it includes a number of extracts from Edie's diaries.
Here (below left) are Bruno Garraud and Ridha Arfa with their book. The book is priced at 23 euros and is wonderful value. As soon as I have details of where it can be purchased I will add them here but, meanwhile, click here for some information. This image has been borrowed from the blog of Jean-Luc Dron and a larger version and the accompanying text in French can be viewed here: http://www.le-treport-cartes-postales-anciennes-et-photos.com/article-25176007.html. Thanks and acknowledgements to M. Dron.
Below right is Ridha Arfa flanked by his curious English visitors, Dick and Lisa Robinson.
| | | |
| --- | --- | --- |
| | | Click this image to enlarge |
We paid a hasty visit to the site where the hotel Trianon (aka General Hospital No. 3) used to be sited and found this useful signboard with a brief history of the hotel, its conversion into a hospital and its eventual demise in 1942.

The two pictures below show the terraces as they used to be (left) and the rather sad remains today (right).
Click images to enlarge
---
Images of The Trianon Hotel and the tented camp around it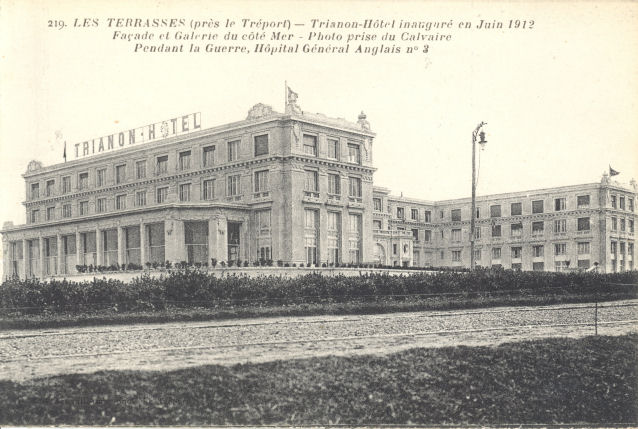 View from the seaward side
---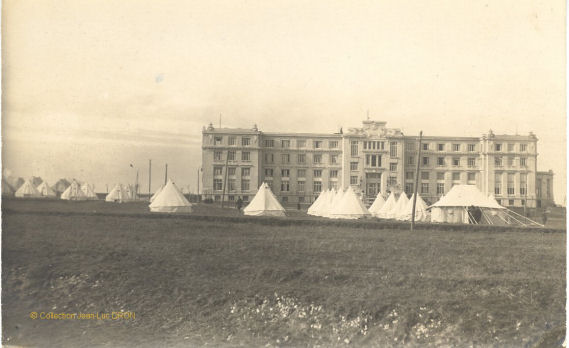 View from the tented camp side
---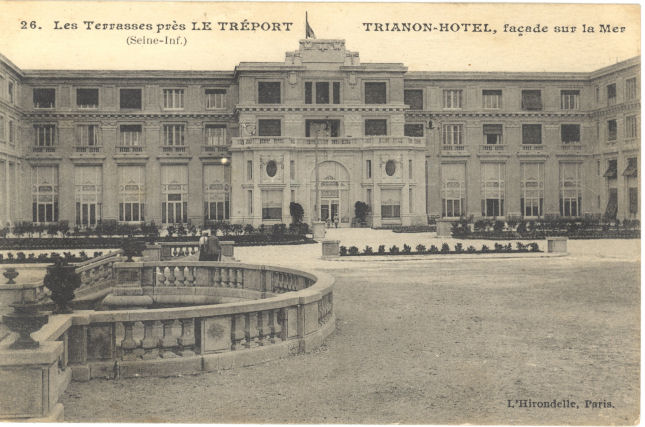 The courtyard
---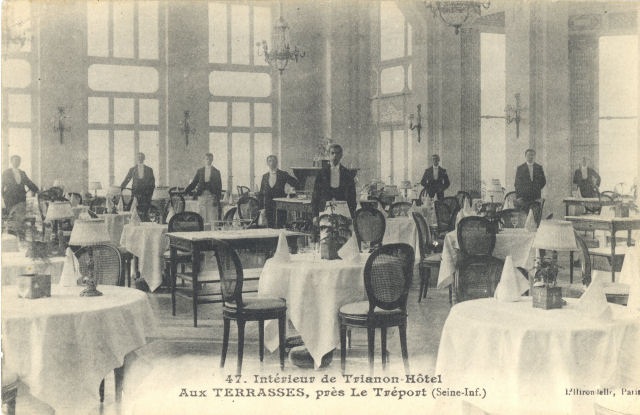 The hotel was built in 1912 and clearly enjoyed a period of grandeur before it became General Hospital No. 3
---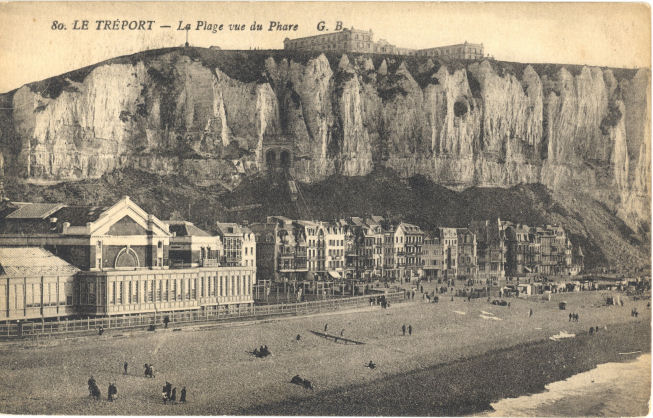 The beach below the hotel
---
The next three images are part of a panorama and should really be viewed together but I have separated them to better show the detail in each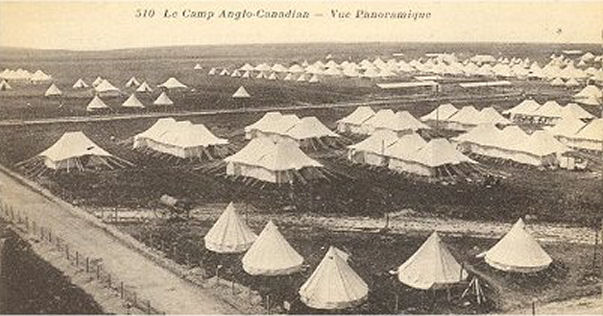 .....
Left section
.....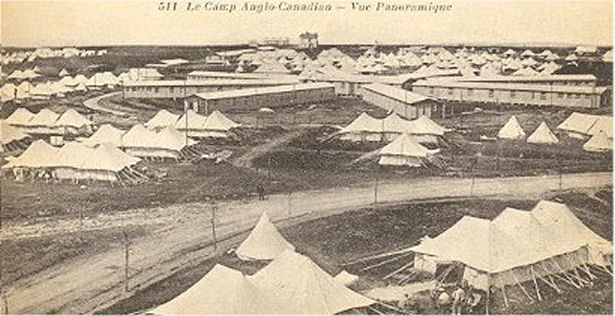 .....
Centre section
.....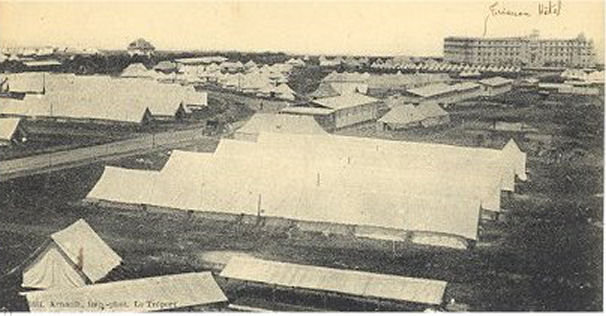 .....
Right section with Hotel Trianon in the background
---
More photos of Le Treport, the Trianon Hotel etc:
Thanks again, Jean-Luc.
---